Tips for Dealing with Flood Damage
1/24/2022 (Permalink)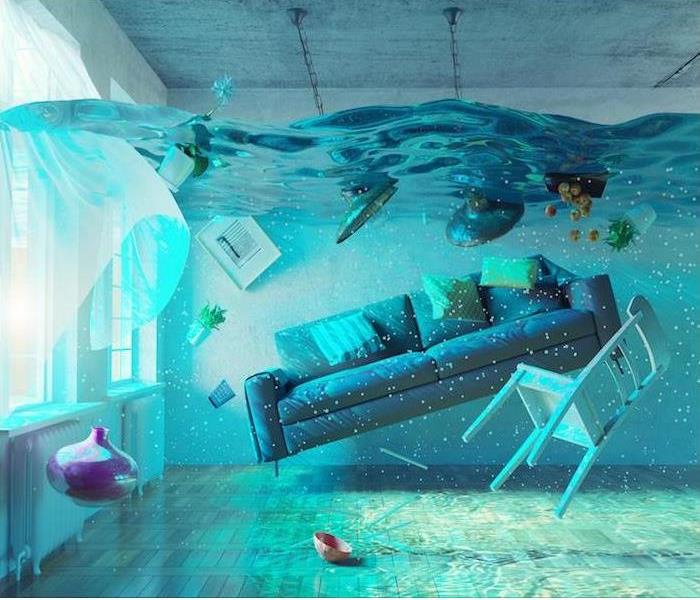 Flood damage doesn't just make your home uncomfortable, it can also cause additional problems if not handled properly. If you suffer from flood damage, or any kind of water damage, it's important that you contact the professionals at SERVPRO to clean up as more dangers can be caused if it's not done correctly. These are some of the steps that must be taken to avoid these problems following water damage.
Only Use Emergency Generators Outside
Emergency generators release exhaust and fumes that can make the house uncomfortable. To avoid exposing yourself and your family to these gases, these generators should only be run outside and far away from the home where they won't cause any problems for the occupants of the home. Also, keep the generator away from any openings such as windows and doors as this gives the fumes another opportunity to enter the house and cause trouble for those inside.
Remove Water Soaked Porous Materials
Any porous materials such as wallboard, insulation, carpeting, wood paneling, or wallpaper have the potential to develop mildew or mold when they get wet. Mold and mildew can be difficult to get rid of and can force the homeowner to order an expensive restoration. To avoid the potential of these issues water damaged porous materials must be removed quickly after being damaged before the mold or mildew has the ablility to develop.
Disinfect and Test Flooded Drinking Water Wells
If you have a drinking water well that has been flooded, it many have been contaminated with waterborne pathogens and should be disinfected and tested. First you should disinfect the well water with bleach. Then, several days later, test the water to ensure that it's safe to drink. If it has been contaminated, the water shouldn't be used for drinking or cooking. There is a four-step process that will guide you to getting your well back into service.
Refrain from Using Plumbing
After a flood occurs in a home, the septic system needs some time to properly dry out. During that time, you should refrain from using the home's plumbing such as toilets, sinks, showers, or doing laundry. This will help to prevent any sewage backups inside or outside the home which could result in the existence of bacteria, viruses, and other germs.
Flooded Heating and Air Conditioning
Heating and air conditioning systems that have been exposed to flood water could be damaged causing either repair or replacement. Natural gas furnaces, space heaters, and boilers contain gas valves and controls that could corrode if they're exposed to flood water. Propane systems should be dealt with the same as natural gas-fired equipment except that propane systems have a gas pressure regulator which is used to sense outside pressure. This regulator is a small vent that's in the body of the machine and should remain unobstructed at all times. Debris from flood water could cause a dangerous malfunction or corrosion. If you're using electric heat, it should be unplugged and allowed to dry while a heat pump should be cleaned, dried, and disinfected before being used again. If your heating system needs to be repaired or replaced following a flood, make sure to check for asbestos that may be a result of the damage.
A home that has suffered flood damage can be very uncomfortable to live in until it has been properly restored. While property has likely been damaged and possibly ruined, there is also the possibility of bacteria and viruses that could cause serious health effects for those in the building. If you've suffered flood damage in your home, you should immediately call on the professionals at SERVPRO to remediate the problem.