Does a flood mean new carpet?
4/16/2021 (Permalink)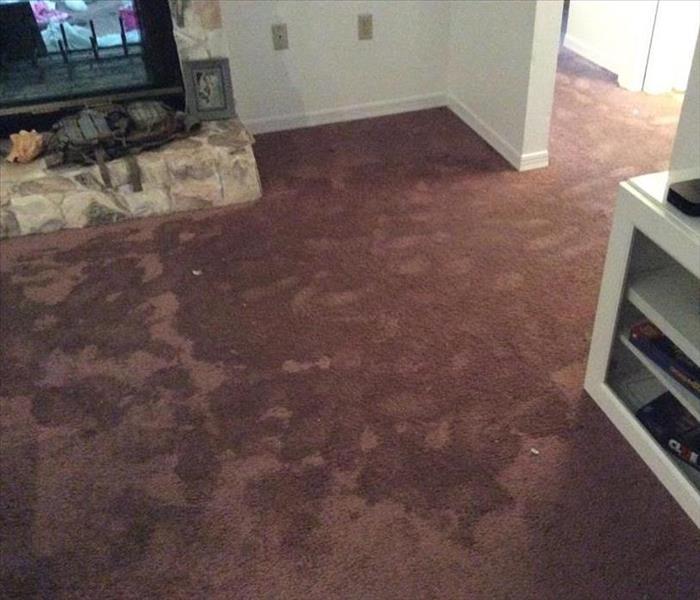 Can my carpet be saved after water damage?
When you have a pipe break and an unexpected flood in your home, one of the biggest concerns is the damage to your floors, walls, and possessions. It behooves you to save as much as you can. It's not just economically sound, but environmentally smart, too. When your carpet gets soaked, can it be saved? The good news is that it often can be cleaned and kept. Consider the following factors:
What is the source of the flooding water?
If the water is non-contaminated or is grey water, the rug can be cleaned and used again.
Grey water includes water from washing machines, dishwashers, bathtub or shower overflow, and toilet water with urine only.
How long has the flooring been wet?
Clean water becomes grey water after 24-48 hours, and grey water becomes black water after 24-48 hours. Black water is a source of fungus, bacteria, and other pathogens. Flooring saturated with black water must be replaced.
Does the water have minimal contaminants?
Water from a pipe break, hot water heater failure, or overflow from bathroom, kitchen, and utility sinks is considered clean water. Carpets soaked with this type of water can be cleaned and dried. The pads can also undergo a full restoration.
In instances where the water is grey, approaching black, it is advisable to clean the rug but replace the pad.
Be Aware of These Contaminants
There are some contaminants that are too toxic to mess around with. If your flooring is exposed to the following, you will need a full replacement:
Water from sewage or storm drain backup
Water with fecal matter, vomit, or other biological contaminants
Water with heavy metals or chemicals
If you have a pipe break with significant flooding, let the professionals in Melbourne, FL asses your flooring damage. A restoration and cleanup crew will make your home look "Like it never even happened."